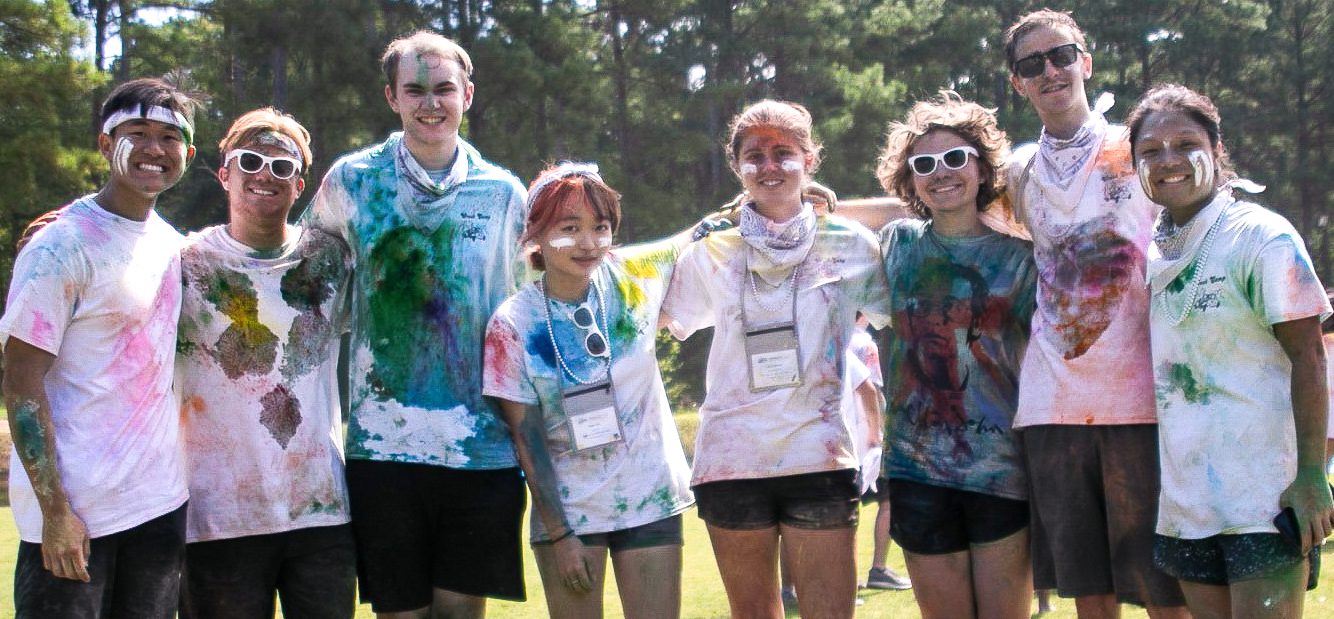 Registration for Wreck Camp Extended Orientation 2024 is TBD. Please be on the lookout for more information soon. 
Wreck Camp is an extended orientation experience that brings together new and current students to jumpstart their college experience in a fun summer camp setting.
During your time at Wreck Camp, you will be in small groups led by two upperclassmen student leaders, color-themed teams, and the overall large camp. While having a great time in the activities, this experience allows you to help make your transition to Tech easier by creating new bonds and friendships with a diverse group of students before ever arriving on campus.
Georgia Tech has a rich history of traditions and a great story to tell. Coming to camp ensures that you will learn all about these traditions, including singing the fight songs, pulling pranks with George P. Burdell, and practicing for the Freshmen Cake Race. Through camp, we will teach you more about our school and its wonderful history.
 
Wreck Camp will not only help you to be more prepared coming to Tech next fall, but it will also give you a chance to learn more about yourself through insightful activities and interactions in small groups with our staff. We will also help identify your individual strengths and goals that will help you to succeed in your new college environment.
We want you to have the best first year at Georgia Tech you can, and Wreck Camp is a great way to get ahead of the curve!
You can choose from two options:
Wreck Camp ATL - An on-campus Wreck Camp experience for all first-year students.
Wreck Camp Odyssey - An off-campus Wreck Camp experience for all first-year students.
Who can attend?
Georgia Tech is committed to providing all new students with the opportunities and information that will help them achieve their goals and be successful at the Institute.
First-year students, transfer students, and new international students are invited to take part in the Wreck Camp experience.
Costs
Wreck Camp ATL - The cost of Wreck Camp ATL was $275. The per student fee includes all meals, lodging, and 2 T-shirts. (Registration for Wreck Camp ATL is now CLOSED)
Wreck Camp Odyssey - The cost for Wreck Camp Odyssey was $375. The per student fee includes all meals, lodging, transportation to camp, a bag, and 2 T-shirts. (Registration for Wreck Camp Odyssey is now CLOSED)
Fee Waivers-There are a limited number of full and partial fee waivers for students. Waivers will be processed and approved on a weekly basis. The waiver application can be found here.
Registration Dates
Wreck Camp Registration is Now CLOSED!
Wreck Camp ATL - Registration Closes (TBA)
Wreck Camp Odyssey - Registration Closes (TBA) 
All camp registration closes (15) business days before the camp start date.
Registered?
All registered students will be sent a confirmation email to let them know they are fully registered for their program. Additionally, registered students will have the opportunity to join our Wreck Camp Slack Channel (engagement app) that will allow for them to meet students from all camps who have registered, and be provided updates from our Wreck Camp staff on what to expect next. Additionally, all students will be engaged with ways to keep them excited until their camp arrives!
Early Move-In Options
Wreck Camp ATL
If you are an out-of-state student attending Wreck Camp ATL, living at least 4-5 hours away, you will have the opportunity to move into your Wreck Camp ATL camp housing assignment the night before camp begins (TBA). This will be $75 in addition to your camp fees if you move in the night before camp. You will be emailed your early move-in instructions upon registering. With this option, we also ask that you plan your early arrival between the hours of 8:00am-5:00pm.
*Please note, you will not be staying in your Fall housing assignment during Wreck Camp ATL.
Wreck Camp Odyssey
Students attending Wreck Camp Odyssey have the opportunity to move into their Fall Residence Hall assignment prior to our departure to Camp Rock Eagle in Eatonton, Georgia for an additional fee of $75 per night until the official Fall Residence Life move-in date. You will essentially pay $75 each day until you arrive back from campus to officially move into the residence halls.
Students who select this option, once the fee has been confirmed, will receive an email from us. You'll be able to change your registration once the information is provided.